Unique Homes for Sale in the Arizona
---
With exactly 18,144 properties for sale in the greater Phoenix area at this moment, there's a perfect home for just about everybody. However, with that many homes available, you better believe there will be some pretty unique properties to hit the market every once in a while. Take a look at these top 4  of one of a kind homes in the valley, that you could buy right now…budget permitting of course.
#4 – 38508 N 34th Ave, Phoenix, AZ 85086
List Price: $935,000
5 Bedrooms, 4 bathrooms, 3,563 square feet.
All seems status quo from the street of this Southwestern style property. Manicured desert landscaping, two tone tan paint on stucco, a flat roof, and even the quintessential wood beam accents.  Even as we make our way inside, there's not much different from that of any other home in this community just south of Anthem. It's when we get a glimpse of the backyard that makes this home a real jaw dropper.
This is the stuff children's dreams (or nightmare's?) are made of. A lazy river, a grotto, waterfalls, tunnels and enough animal's statues to fill a zoo.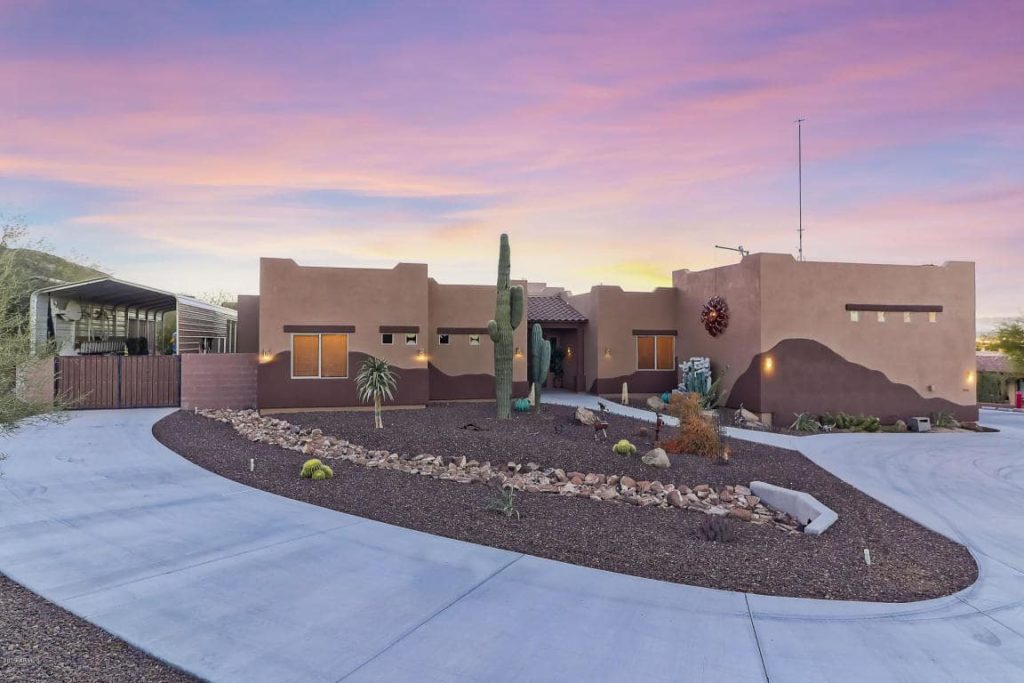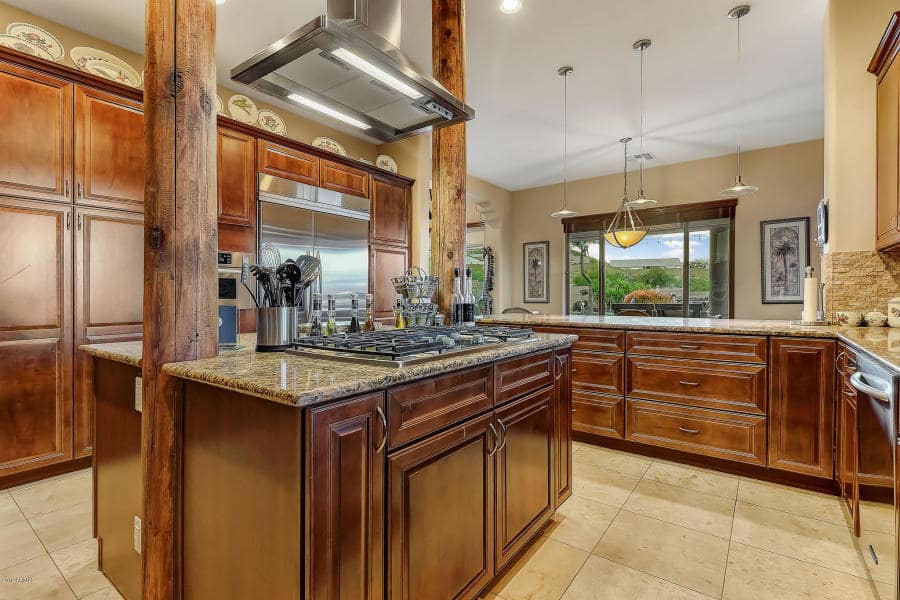 #3 – 8404 E Auto Plane Dr, Carefree, AZ 85377
List Price: $1,290,000
3 Bedrooms, 2.5 Bathrooms, 2,351 square feet
Just in case the address doesn't totally give away what's going on here, this private home sits on an active runway. Skyranch is a small community in Carefree where a select few homes surround a small private airport. Need to run to the store?  Hop in your garage and into your car.  Need to run to Tucson? Just hop in your Cessna and go.
#2 – 5335 N Wilkinson Rd, Paradise Valley, AZ 85253
List Price: $13,800,000
7 Bedrooms, 12 Bathrooms, 15,381 Sq Ft.
If that stat line doesn't impress you, the pictures will.  While the home is grand in every possible way, that's not why it's on this list. After all, there's plenty of homes of this size and price range in Paradise Valley.  Much like #4, the wow factor is all in this 150,000 gallon waterpark in the backyard, featuring a 30 foot waterslide, rope swing, splash pad, amongst your typical pool features.
#1 – 7620 N Red Ledge Dr, Paradise Valley, AZ 85253
9 Bedrooms, 14 Bathrooms, 18,000 square feet.
It's one thing to be on the mountainside, but it's a whole other to be on the peak.  Smack on the top of one of the highest peaks in Paradise Valley and backing to the Phoenix preserve awaits a completely custom, "built to suit" property. While this property will surely have all the amenities you can shake a stick at, the hands down reason this sits at #1 is this property comes with none other than your own heli-pad. Take note James Bond…
Honorable Mentions
There's 2 properties that had a couple of really unique features that I just couldn't leave out.
This property in Scottsdale, for a hefty 5.9M has a completely hidden safe room.  Take a look at the picture of the office below, can you spot the hidden door?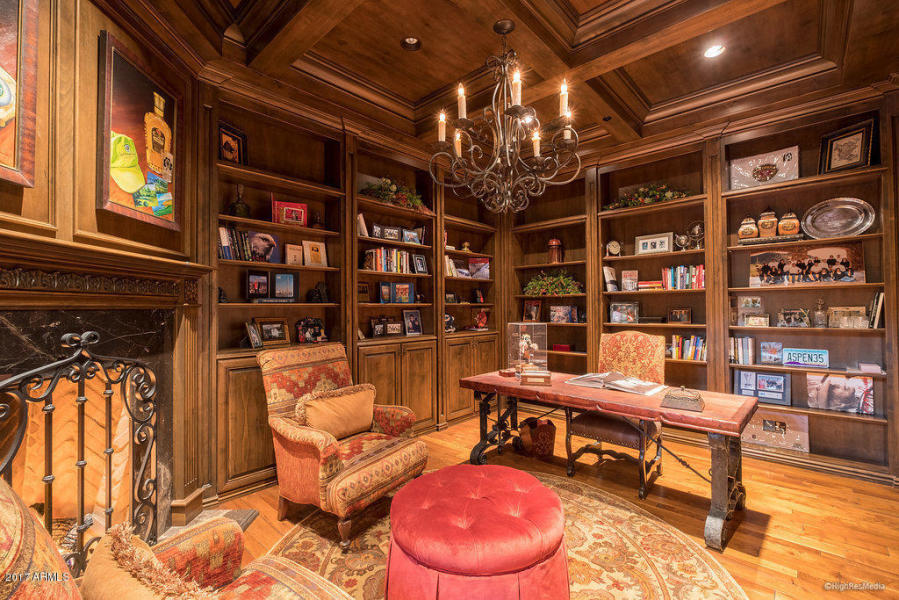 There it is!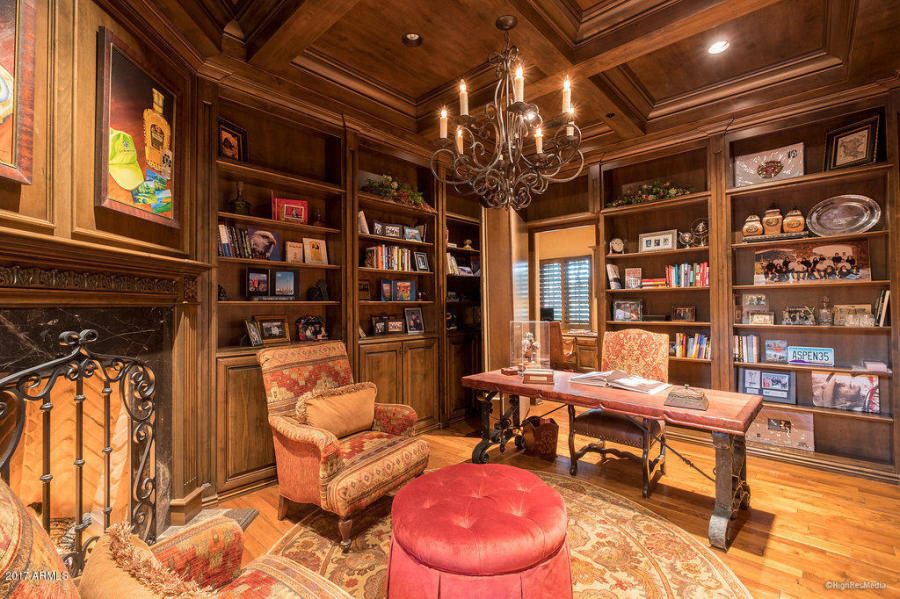 Secondly, my hats off to these sellers, who actually followed through many of our childhood dreams. Included in the sale of this Gilbert home at 1.1M, come with none other than a fire pole to slide downstairs in a flash. Kudos.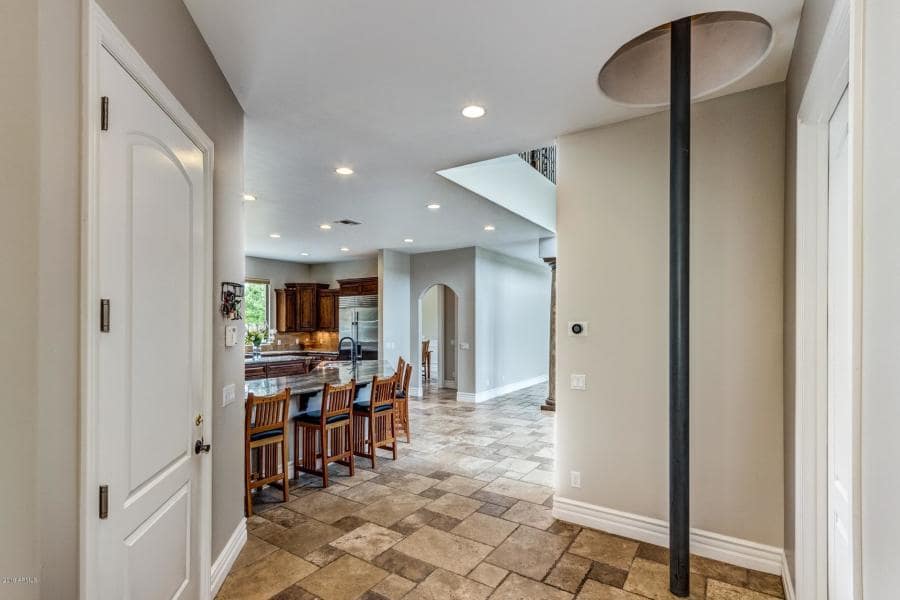 Contact Me