Market Update
---
2022 Home prices have taken another leap upwards, and Phoenix appreciation levels remain at the top of the pack nationwide. Quarter 1 closed out with more of the same storyline that we've become so accustomed to – not enough homes for sale! Now with interest rates rising alongside prices, what effects will that have on the housing market? Let's dive in!
Current Market Numbers
Active Listings: 4,972 (up from 4,588 last month)
Pending Listings: 8,536 (up from 8,333 last month)
Median Sales Price: $456,000 (up from $445,000 last month)
Avg Days on Market (sold Listings): 26 days (down from 29 last month)
Keep in mind, these numbers represent MLS data only – many new home communities are not represented in the MLS, and do not factor in to these counts.
On the new home side of things, single family permits for construction are at a 'normal' level. Builders would love to be at an elevated level, churning out homes to meet the current shortage, if only there were enough workers and materials to fulfill the shortfalls. This creates a bottleneck to the speed of construction and the in inflow of additional homes coming on to the market. With an estimated 291 people moving to Maricopa County EVERY DAY, there are certainly not this many new homes available to accommodate an expanding population.
While supply levels can't seem to break too much from their historically low levels, demand has slightly decreased since the beginning of the year. Increased prices, increased interest rates are most likely the reason for this -as some buyers get priced out of the market all together. However, year to date the slight decrease in demand has been completely insignificant, and it is not perceivable in the real world outside of some in-depth number crunching. The demand still vastly outweighs the paltry supply of homes, and when that is the case, home prices will continue to rise for the foreseeable future.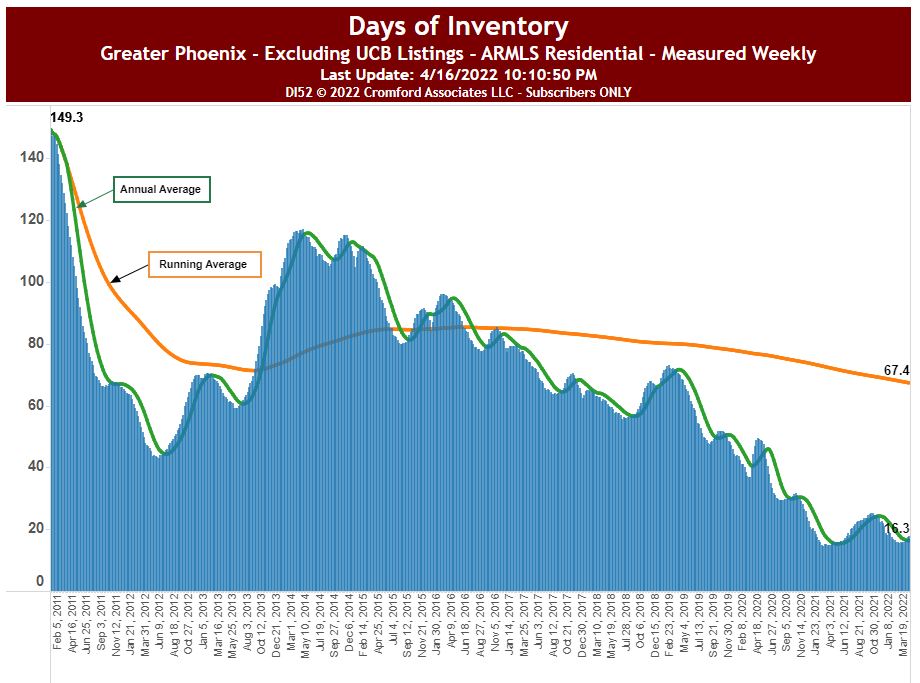 Interest Rates
Interest rates have jumped quite a bit this year. The average interest rate for a traditional 30 year loan is floating around 5%, versus around 3% at the start of the year.

This is a substantial change from what we've grown used to over the last 18 months, yet still historically tame. Take a look at the last 40 years of mortgage rates to keep it in perspective.

While annual rent renewals come up and renters are continually shocked by their increase in rent and general inflation costs, the rental alternative doesn't appear to be any better of a solution.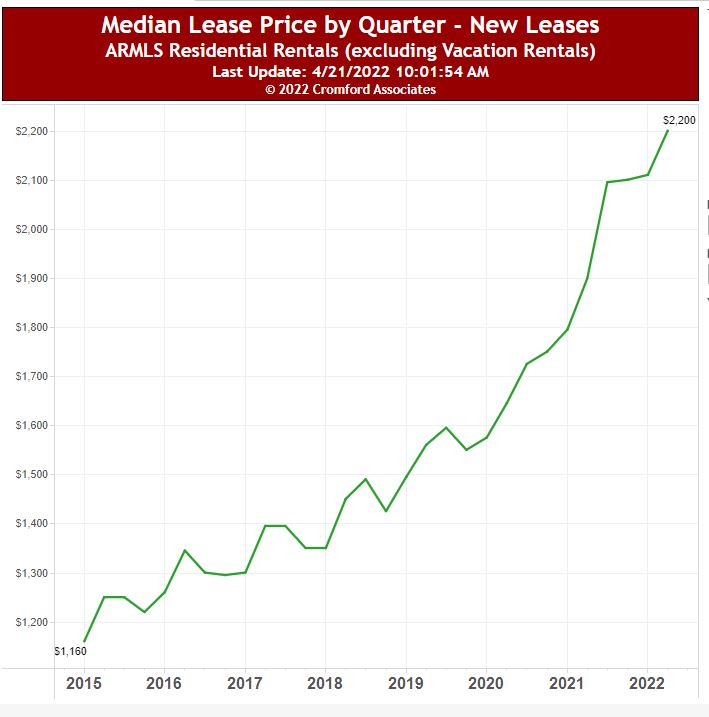 At face value, it's easy to assume increased interest interest rates are a headwind for the real estate market, but there are actually some very interesting points to consider.
With higher costs, it's more likely buyers adjust what they are willing to spend on a home and look for more affordable homes that fall within their monthly budget. This could actually put additional upward pressure on more of the affordable/entry level housing segments, which are already the most undersupplied. Millennials are the ones snatching up these type of homes. Millennials are now the largest demographic buying homes in the United States, surpassing baby boomers.
The luxury market is fueled by cash buyers, so mortgage rates will have less impact to buyers in this segment. However, with cash losing value by sitting in the bank at the current 8+% inflation, this money will no doubt be put to use somewhere (Ahem…Real Estate?)
Current homeowners won't want to sell/move, because even at a lateral price point, they will be paying a higher mortgage rate than they are currently locked in to.  This could point to continued shortened supply of homes coming on the market. With new construction experiencing delays, where do we find added supply??
Additionally, alternatives to the 30 year fixed loan are getting more popular – ARM loans offer reduced interest rates, because you are only locked in to the interest rate for a handful of years before it becomes variable rate. 5 or 10 year ARM loans can offer substantial savings on interest rates, and then be refinanced under better conditions down the road. And let's be real, no one keeps a 30 year mortgage and pays it start to finish anyways. The home is either sold, refinanced, or paid off prior to that, so a 5 or 10 year ARM is actually a pretty great tool to consider.
Will some buyers be pushed out of the market all together? Yes, it's inevitable, but unfortunately that's nothing new. We all have budgets to stick to, and as Arizona continues to grow among the fastest in the country, the cost of living here is likely to adjust accordingly.
Major Industry is still expanding in AZ at incredible rates. Both tech startups and established companies continue to select "The Silicon Desert" as their home base, over more expensive areas. In example the 12 Billion dollar 1,100 Acre manufacturing park from Taiwan Semiconductor going up in North Phoenix, and the 20 Billion dollar chip plants being added to Intel in Chandler, both of which will add thousands and thousands of jobs, directly and indirectly.
Looking forward at the remainder of the year, we can expect the market to slowly begin softening through the summer (do not confuse softening with prices declining, simply going from ultra hot to just hot). This is a very typical seasonal pattern than Arizona has followed for decades. When the market is blistering hot and the seasonal summer slowdown occurs, it can seem like the whole market is changing. We get so accustomed to every home receiving a dozen offers, that we wonder why a home has made it through a weekend without an offer – forgetting that 60-70 days on market is a more normal, not 3 like we've been seeing. This seasonal trend does not last, but if you can brave house hunting/moving in the summer heat, it can be a great time for buyers to secure homes with less competition.
While the rising interest rates can cause a bit of sticker shock ( Afterall all what isn't expensive these days??), there's no doubt the future in Arizona is looking bright.