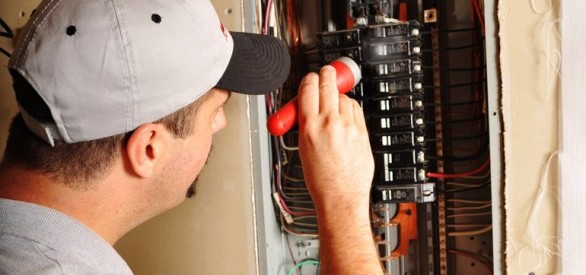 Home Inspections – The Ugly Truth
---
After months or researching, 3 weekends of looking at homes, and hours getting your finances in order you've finally found the one! You make an offer, you can't fall asleep because you are so excited, scared, and nervous all at the same time.
FINALLY! you hear back, the sellers accepted your offer, congratulations!! Now all that hard work is behind us we can move forward and start thinking about moving in!
Not so fast... This might not be the most glamorous post about the home buying process, but from the time of an accepted offer to the time you move your boxes in, there's a lot of moving parts and unknowns – like the home inspection.
In Arizona, the standard Arizona Purchase contract is used to purchase property with a Realtor.  Built into this contract is something called a Due Diligence Period – or commonly referred to as the The Inspection Period.  During this time (typically 10 days), you as the buyer are able to complete any and all inspections you wish to on the property, including but not limited to:
A General Home Inspection
Termite Inspections
Any specialty trade inspections (HVAC/Roof/Plumber etc.)
Verify and Research School districts
Research demographics and crime
Permitting
Zoning
Damages to property
Seller Disclosures
Contractor Quotes
Any other material facts you wish to know or research performed on the property
The concept behind this is it gives you as the buyer 10 days to confirm the property is everything you thought it was, is safe, and works for your family.

While general home inspection reports are not required, I HIGHLY recommend you have one performed.  The up front investment is a small cost compared to some costly repairs that could be hiding around the corner.  Typically the report is going to cost between $350-$550, depending on the inspector, size of house, and features of house.
So here you are, you've spent hours and hours looking online and in person at properties and you've finally found the PERFECT home.  So what could be more depressing than getting a 60 or 70 page report on everything that's WRONG with the house of your dreams?  Not much could be worse if you ask me, but it's a reality that you need to be prepared for.
There WILL be issues that come up on your report.
If you are going to get to retain one piece of information by reading this, remember this one sentence: There WILL be issues that come up on your report.  A home inspection where everything is 100% perfect just doesn't exist.  Brand new homes?  Think again – even brand new homes that receive inspections will have a punch list.
Think about it, on your average used home, almost every part gets used.  The roof is exposed to the elements, the air conditioner turns off and on all day for months at a time (not to mention sitting in the sizzling Phoenix sun), dishwashers are running daily, floors are being opened daily, doors are opening and closing, outlets are being used,toilets being flushed, showers being used, lights are going on and off, pool pumps are running… I could go on and on but I think you get the point.  What you have to understand is these things are expected to wear out.
Should I attend the home inspection?
There is no need to attend the ENTIRE home inspection. In fact, the inspector has a LOT to get through in just a few hours, so it's best you let them perform the job to the best of their abilities.  However, you may optionally attend a buyer review at the END of the inspection.  During a buyer review, the inspector will go over the major concerns and findings of his report so you can see it in person.  You can expect a printed report regardless if you attend or not.
What do we do about issues found?
As we already covered, there will be issues.  What you need to do is think long and hard about the issues located.
Are these issues you can live with?
Are they safety issues?
If you are handy, are they issues you can and are comfortable fixing?
How much will these repair cost be?
A lot of the times there is a good chance the seller did NOT know about many of the issues that come up in the report.  The A/C could be ready to die, but the owner had no idea.  The roof could be past it's lifespan and just waiting for a strong wind to come and finish the job – it's amazing how little some people know about the homes they live in!
A home built in 1985 for example, is going to have a totally different set of building codes than a home that was built today.  Things that were up to code and completely common in 1985 are now considered bad practice.  Does this mean they have to be fixed?  Not necessarily.
At the end of the day, home buyers tend to get overwhelmed with the list of items on a home inspection. Remember, the goal of the inspection is to make you aware of the condition of the property and home-ownership does come with some maintenance, just like a car.
Getting past the Inspection period – Legally
Once you complete your inspections on a property, you will then complete a document called the Buyers Inspection Notice and Seller Response (or just B.I.N.S.R. – pronounced bin-zer).  The form will give you three options:
Accept the premises in current conditions
Reject the premises and cancel your contract
Allow the seller an opportunity to fix issues and continue the purchase
If you allow the sellers an opportunity to fix repairs you will notate each item that you have found and wish to be repaired.  (Know that there are two different types of repairs  – "Disapproved Items" and "Non-working warranted items".  Your agent will differentiate this for you, and that's a lesson for another day ).
You will then submit this document to the seller.  The Seller with then respond with one of three responses:
Agrees to correct what you have requested
Rejects all corrections
A "counter" response (i.e. they will fix SOME of your items)
If the Seller agrees to correct what you have requested, then no further action is needed. The seller will correct those repair items before close of escrow.  If the Seller either rejects the requests or gives you a counter response, you have one final decision in the process.  You may either:
Accept the response and continue the purchase
Reject their response and cancel the contract
There is no secret – this part of the process is necessary, but also the most difficult part. The purpose here is not to scare you, it's to educate you and set your expectations so you can make the best decision possible and enjoy your new home!