Accidental Landlords
---
Buyer demand is below normal, but home prices are moving up. But wait…low demand should mean softening prices… right? We are in a unique world, where many factors have influence in ways we might not initially consider. Allow me to introduce to you the new wave of "accidental landlords", which is one of the core reasons home prices are back on the move up. With the first quarter of 2023 behind us let's take a pulse on the market and explore why this new trend has some serious staying power.
We all know the backstory by now – record low interest rates during 2020-2021 caused a massive push in home buying due to increased purchasing power. But don't forget about the large majority of the 51 million households with an existing mortgage who also refinanced during this time.
Between all those buyers and refi-ers, that's tens of millions of homeowners nationwide that are locked into 30 year mortgages around 3%. Of course current rates are in the more typical long term average in the 6% range.
So what do these homeowners do when it comes time to move? Two things – first thing is, they actually don't move at all. Many homeowners are sticking it out in their current house and tabling their plans to move. While they may perfectly be able to afford a new mortgage on a nicer home, the juice just isn't worth the squeeze compared to what they are locked in to.
Secondly, those that are dead-set on moving, are not selling their homes like they used to, rather converting them to rentals. It simply makes way more financial sense to rent it out at market rental rates while they are locked into a below market mortgage rate. Their profit easily offsets their new higher mortgage payment, and just like that, an "accidental landlord" is born.
The thing is, I don't see this is a short-term revelation, a whole new generation of these landlords are being built as we speak. These mortgages they are holding onto are a fixed low rate for 30 years in most situations. As rents increase over time, and those mortgages eventually get paid off, these will turn high cash flowing rental properties – where's the motivation to sell them?
So, the reason prices are currently going up when buyer demand is below normal, is because there's still just not enough homes for sale, and it's getting worse – homeowners are simply refusing to surrender their 3% mortgages!
But these holdout owners are not the only ones contributing to the low supply of homes. The amount of planned new homes coming on the market has dwindled significantly since a year ago. New home builders slowed down production intentionally as they expected a slowing of the market during last year – which was true and the smart thing to do to prepare for possible slower times. The problem is it didn't slow THAT much, and the "down cycle" has already reversed in less than a year. Builders are only submitting about 1/3rd of the permits for new homes to be built than they were a year ago. So here we are again, our growing city is back in an inventory crunch, and the number of homes available for buyers to choose from is decreasing on a daily basis.
Don't get it twisted, while buyer demand is technically below normal, if you told an active buyer in Chandler or Glendale that right now, they might think you're crazy as they compete for one of the dwindling amount of homes on the market. Our market is picking up speed, and any further mortgage interest rate drops are only going to add fuel to the fire.
Chandler is positioned well ahead of the rest as the single hottest market in the valley and firmly planted in a sellers' market. Paradise Valley is the only market which slowed over the last month, but still in a mild sellers' market.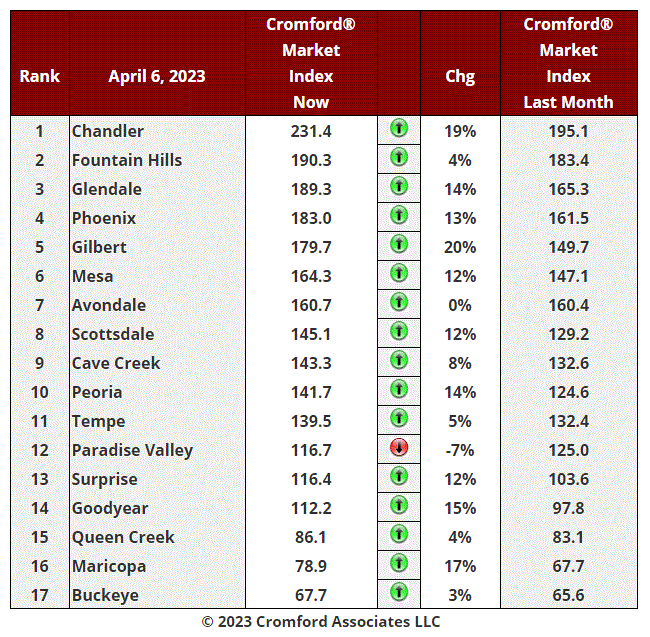 The general public underestimates how quickly the market is shifting back in favor of sellers, after a very brief price correction in 2022. The median sales price is back up to $430,000, after bottoming at $415,000 in December 2022, and will be moving higher in the coming months. Average price/ft is up 6% year to date, from $271 in December to $288 so far in April.
Skewing the facts however is new home sales which are generally not listed in the MLS/publicly. While resale home prices were down 4.6% from this time last year, new home sale prices are actually UP 2.1% in the same time frame. With new home sales now making up over 20% of the home sales, the market is even stronger than it indicates on the surface. This is echoed by new builders starting back with price increases in some communities.
Whether buying your first home, or selling an investment property, I am here to help. Please let me know how I can help you reach your real estate goals!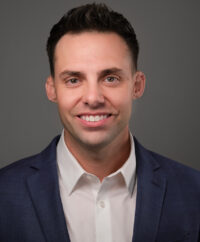 Jon Knutson
REALTOR®