New Year, New Market
---
Will a new year come with a new real estate market? 2022 was a wild ride, but that's all history now as we set our sights on the 2023 Phoenix area real estate market. Let's break down latest developments in the housing market and get some insight on the latest news.
A Brief Recap
To summarize the 2022 housing market briefly is pretty hard to do, but I'm going to try… In late spring the market lost its upward momentum due to quickly rising interest rates. Homes went from appreciating several percent a month, to flat, and most recently softening. However – the market has proved to be incredibly hyper-localized and segmented.
The locale's which were quickly pushed into the deepest buyers' market were Buckeye, Queen Creek, Maricopa and Avondale. Areas that were more resilient were the luxury segments including Fountain Hills, Scottsdale, Cave Creek and Paradise Valley. So while some areas were in a fairly gloomy buyers' market, other areas were appreciating and still struggling with inventory shortages. To average these out, valley wide, we ended the year with nearly exactly the same Average Sales Price per foot as we did coming into the year.
Valleywide, a VERY slow drift down in the real market (measured by supply and demand) has been persistent from August through November, but December 2022 actually turned around and the market started getting stronger, in the sense of more buyers coming to the market, and less homes being available.
This mild yet measurable turnaround has widely flown under the radar, probably while we've been so busy stuffing ourselves with turkey and planning holiday events. The likely cause for the boost is mortgage interest rates that have come down off their multi year highs. While buyers still don't love 6.5% interest rates, they'll accept it over 7.5%.
As it stands the market is at a 100 on the CMI index, which is exactly balanced between buyers and sellers, but slowly moving towards a seller advantage. Don't get me wrong, this is not (yet) back in a "hot" market, but a market that is balanced, and by theory, homes should appreciate in line with the rate of inflation.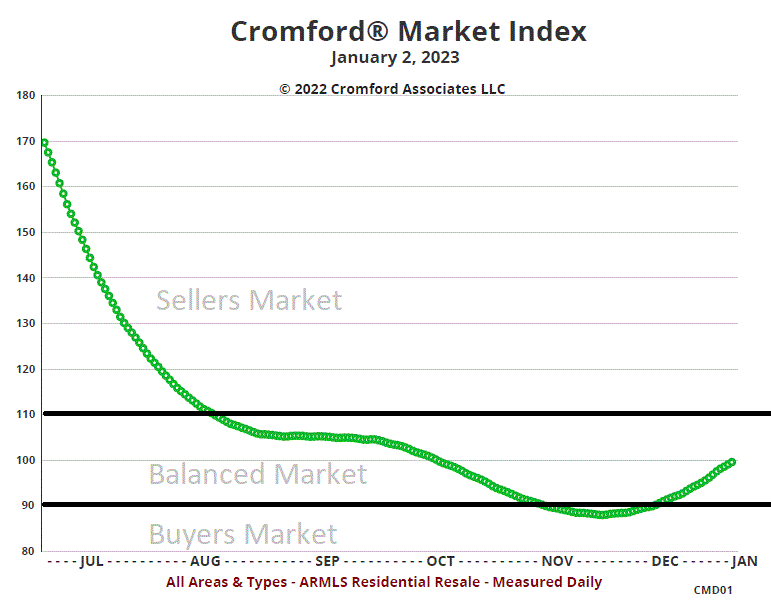 The unusual 'X factor' of the market is that the amount of volume/transactions are very low.  Buyer demand is below normal, but seller supply is abysmal, which has led to the amount of housing transactions to be almost half of recent years.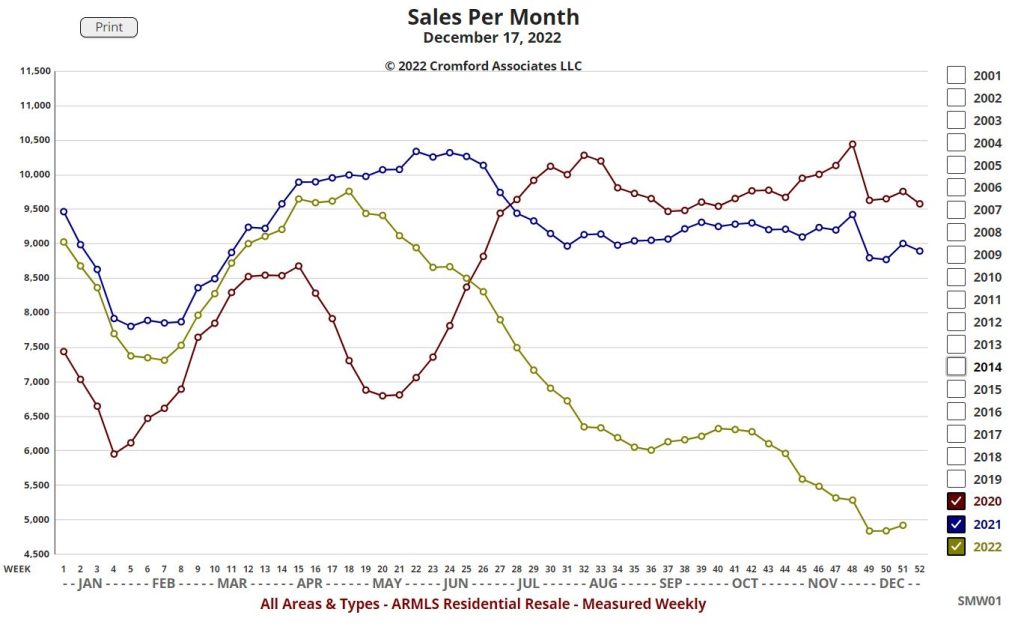 In a balanced, low volume market like this, all market participants are likely to have drastically different experiences from one another, depending on their circumstances. Those homes that are priced appropriately, well maintained/upgraded, and in desirable areas are going to sell quickly.  Those that are overpriced or needing work in less desirable areas won't be so fortunate. Buyers in some areas can really flex their muscles and have the pick of the litter – other might feel like there's not a lot of options.
More than ever, if you are buying or selling a home, it's important to understand your immediate micro market, so you are best set up for success. What happened with Great Aunt Sally's home sale on the other side of town, isn't going to be the same for you – so be weary of anecdotal experiences and opinions from others.
This chart perfectly illustrates the imbalance in markets. While nearly all markets have moved in favor of sellers of the last month (come on Goodyear, keep up!) we still see half of the cities below 100 (indicating a buyers' market) and half the cities above 100 (indicating a sellers' market).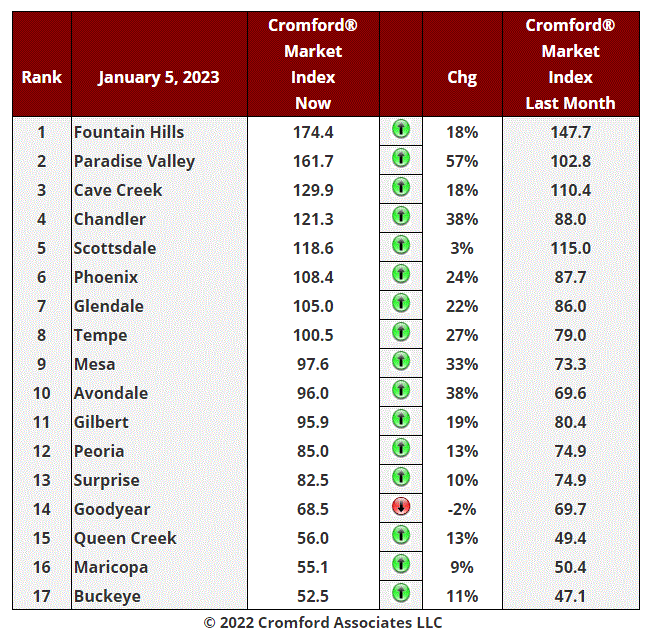 As always, please let me know if you have any questions or would like more details on your area or neighborhood. Wishing you a happy and prosperous 2023!