Where have all the homes gone?!
---
It's right about this time of year that we start seeing flocks of homeowners dip their toes into the pool of home selling. In tandem, buyers emerge from hibernation, ready to purchase a home.  It's the same timing every year, and is about as predictable as it gets in Real Estate.  Except this year something a little different is happening so far.  The buyers have stepped onto the field to play, but the sellers still haven't shown up to the game.
Instead of sellers  starting to enter into the market January through March, the amount of homes for sale is actually going down. NEWSFLASH – We already had a shortage of homes available, which is now becoming a HUGE shortage of homes for sale. Why doesn't anyone want to sell? Take a look at these numbers to understand just out of balance we are.
Active Listings on the market right now: 11,003 residential properties.  Sounds like a lot, but not considering there was around 19,000 homes at the same time last year, and even that was less inventory than "normal"
Pending Sales – the number of homes currently pending/under contract are up by 18% from this time last year.
So that's 58% LESS homes available, but 18% MORE homes are under contract.  Are you starting to see the imbalance?
So let's test out your high school economics…What happens when demand for a commodity goes up, but supply goes down?
Yes, prices go UP! (Give yourself a gold star and a pat on the back)
The average sale price per sq ft has gone up by 9.8% from this time last year.
Now, if you are with me so far, understand that price is actually a trailing factor of supply and demand. So with 19,000 homes to start March last year, the market ended up 9.8% higher on average price per ft.  So now that supply is down to a meager 11,000 properties, how much higher do you think prices will go this year?
Unfortunately, that's not a question I have an answer to (but it sure would be cool if I did).
However, it's quite simple to deduce that over the next several months, we WILL see prices increase.
But Jon, what about the Coronavirus!!!??
I'm so glad you asked. In my opinion, this too shall pass to the likes of every other outbreak over the last 20 years. Of course the quasi-irrational fear of the unknown can be a catalyst that causes a snowball effect, which can in turn alter the markets, and degrade consumer confidence.  However it plays out, my bets on next Thanksgiving we'll be sitting around the table chuckling about how Uncle Larry still has 13 gallons of unused hand sanitizer in the closet.
The real estate market, although "hot", moves analogous to a freight train, slow and steady.  It doesn't make or lose billions of dollars overnight like the stock market can.  It takes a long time to slow down, stop, and turn around.  Between record low interest rates, job growth, and THE #1 fastest growing country in the United States (Maricopa), the valley real estate train is only continuing to accelerate.
Here is a closer view of how "hot" each city is based upon the Cromford Market Index.  An index number of 100 means a balanced market, over 100 is a sellers' market and under 100 is a buyers' market.  The farther we get away from 100, the stronger that market is. While anything over 200 is a relatively hot market, over 300 is basically on fire, and over 400…well, I guess that's temperature of the sun.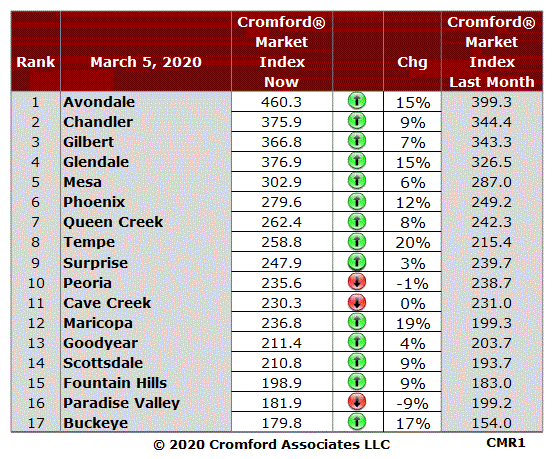 As always, demand and prices vary not only by city, but by zip code, neighborhood, type of housing, price range and some other factors. These numbers are not a catch all for your specific property. Please reach out if you want detailed and specific information and statistics on your particular property or neighborhood!
Contact Me