Tips on Navigating the Current Real Estate Market
---
A 'new normal' has set into the real estate market, which is a sizeable contrast from the past two years. However, it's not actually much different than the few years preceding Covid, nonetheless, an adjustment. Both buyers and sellers are having drastically different experiences right now than they did in the past 24 months. So, is it a good time to buy? Sell? Here are some tips and tricks for both buyers and sellers on what to expect, and how to navigate the real estate market right now.
Buyers
For the past two years, I can't count how many would-be home buyers I've come across who have said something along the lines of "The market's just too crazy, I'll buy as soon as it cools down", or "there's just not enough options out there, I think I'll just wait ". Does that sound familiar? Well, that time you were waiting for is upon us – we have options!!
At the time of writing, there are almost exactly 20,000 residences for sale in the Phoenix metro area right now. That's up from the 5,500 listing drought that we started the year with, but still short of the 25,000 or so that has been widely considered the average for a balanced market.
What that translates to is nearly 4 times as many options right now than buyers had at the beginning of the year. Contrary to the advice of the last couple years, buyers, you now get to be a little pickier in finding that perfect home. Don't be unrealistic, but DO find a home you love, and DON'T settle for something you really don't love just for the sake of it. Remember, there's no such thing as a perfect house, but hitting 8 to 9 of your 10 checkboxes should be doable.
You can also take a little extra time. Gone are the days when EVERY home that came on the market has multiple offers within hours. Homes are selling in weeks and months, versus hours and days. The caveat here is that a nice home that is well priced can and will still sell right away, so you also don't want to hesitate too much when you find the one. If you love it, there's a good chance others will to.
As you know, interest rates are a factor right now, and the sole reason that you have more options, as rising rates have squeezed some buyers out of the market. Rising rates are accomplishing exactly what they intended to do – curb the frenetic pace of inflation, housing included. The silver lining is most predictions have rates peaking right now and through the next couple months. Many people buying right now will be refinancing in the not-so-distant futures when rates retreat.
What's Out
Panic Buying
Bidding Wars
Settling
Waiving Contingencies & Inspections

What's In

Options
ARM mortgages
Asking for seller concessions and rate buydowns
Restoration of balance in the market


Sellers
For the past two years, the recipe to sell a home has been simple. List it for sale, wait 48 hours and see which of the 10+ offers are the best. In the current market, not so much.
Right now the average days on market is 54 days. 2017-2019 averaged around 65 to 70 days on market. So that's actually a pretty good statistic compared to pre-covid numbers.  However, it still requires substantially more patience than if you were selling 6 months or a year ago, where the norm was to sell a house over a weekend. The kicker is, that statistic is based on of SOLD homes, but what about all the homes that don't sell?
The homes that don't sell is where we are seeing a bigger separation. The measurement of "Listing Success Rate" – meaning what percentage of listings successfully sell is an interesting chart. Where this time last year 90% of homes listed sold, we are currently seeing 67% of listings sell. Sellers – don't assume just because it's for sale, it will sell.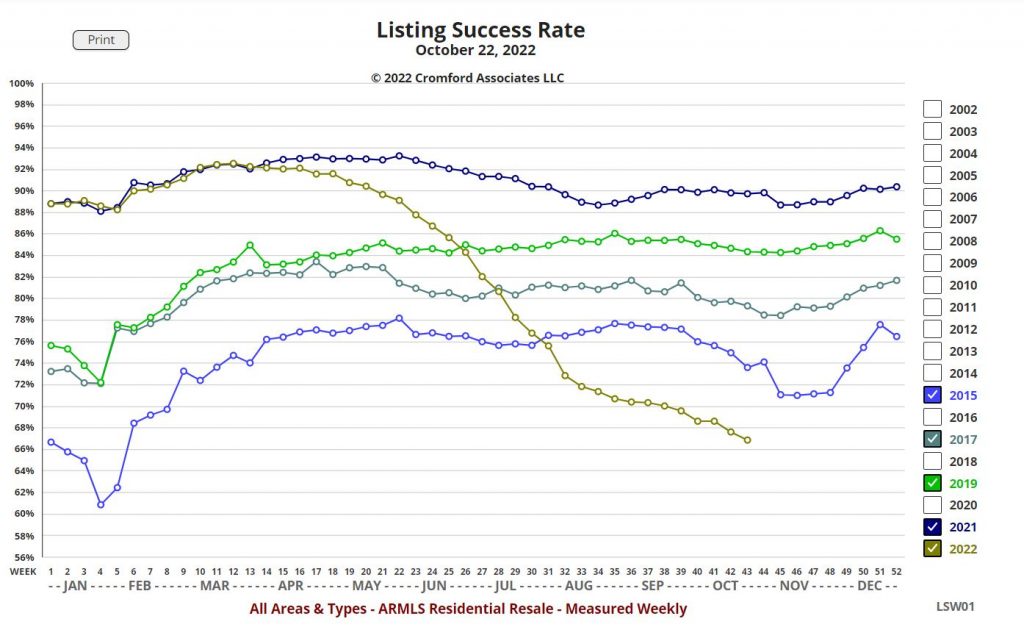 If you are planning on selling your home, you are going to want to do a little more planning. That means things like cleaning, decluttering, staging, fixing up any major issues. Sellers became lazy in recent years because the reality was- it didn't really matter, 9 of 10 houses would sell easily. In fact, around a year ago I started seeing one particular listing agent/company get so lazy, they would only put up one mediocre pictures of the front of a house, and the description would only say "Great home in Phoenix" – That's it. Examples of laziness like this are an embarrassment if you ask me, but regardless these types of homes still sold.
So, paint that room, spruce up that yard, and organize that one room that's become your families dumping grounds of "stuff". – Buyer's enthusiasm for taking on your incomplete projects has dwindled.
What's Out
Unrealistic Asking Prices
"Lazy" Listings
As-is sales
Buyers naming their first born after you to have a chance to buy your home.
What's In
Cleaning & De-cluttering
Staging
Turn Key Homes
Realistic Pricing

As always, supply and demand is what makes the market tick. The strange dichotomy of our market is while demand has been stripped by high interest rates, lower than long term average supply is keeping the market stable. There's LOTS of people who'd like to move, but don't want to surrender their 3% and 4% interest rates – so they remain put for that sole reason.
Most landlords with mortgages are in the same boat, they've got a good thing locked in so why sell at this point. Even more so, Landlords without mortgages don't want to sell. Real estate assets are a great place to park cash, historically a great hedge against inflation, and don't forget the incredible tax benefits.
As always, don't hesitate to reach out if I can help you in any way.