Planning To Buy or Sell in 2019?
---
"The best time to buy a home is always five years ago."  –Ray Brown.
If I could go back 5 years and buy more property would I? Absolutely, wouldn't you? Unfortunately we can't time travel (yet), so the next best option is to take action today. Does that mean right now is a great time to buy property?  The answer is yes, and no. If 2019 might be your year to make a move, here's what you need to know about buying and selling real estate this year.
Selling
Selling a home in 2019 is going to look a little different than the previous years.  No matter the price range, location, or type of housing, demand has weakened nearly all home sellers' positions slowly over the second half of 2018. Don't panic, there's no bubble, but the market has softened slightly.
Expect it to take a little longer to sell a home in 2019 than the previous few years – There are less buyers today than there were a year ago at this same time.  How do we know?  The amount of homes under contract last year on January 1 was 7,583.  This year, it's down 17% at 6,301.
Here's a current break down of houses under contract by price range: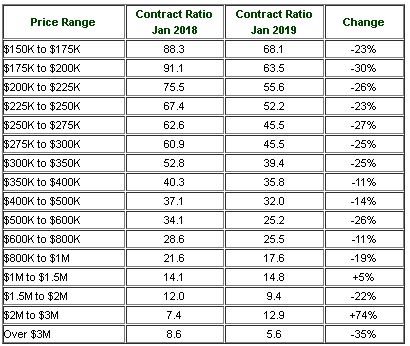 In other words, on average, 17% less buyers are in the market right now, which means there is less demand for your home. It may take a little longer to sell than if you had sold a year ago at the same time.
Will some homes still sell with multiple offers in one weekend?  Sure.  An appropriately priced home in a good neighborhood never goes out of style.
In the sub $300k markets, if the decrease in demand continues throughout the year, this could spell disaster for entry level housing investor buyers like OpenDoor. The once 'almost market value' offers to home sellers have been drastically reduced.  The confidence that they can resell it quickly for a profit is lower.  If homes are not selling as quickly and they are sitting on a lot of inventory, their entire business model could be in jeopardy.
This is also a turning and testing point for fly-by-night discounted brokers that pop up during red-hot markets. Anytime the housing market cools off or balances, most of these discount brokerages fizzle away.
Buying
Buying a home in 2019 is going to be both more challenging, and easier, all at the same time.
The challenging part comes from rising interest rates.  Estimates put the average interest rates in 2019 reaching around 5.5%, compared to around 4.75% right now, and 4.25% last year.  While it doesn't seem like a lot, when you are talking about compounding over many years, it really adds up.
The difference between a $300k home at 4% interest rate vs a 5.5% interest rate, comes out to an additional $78,000 of interest over the life of a 30 year loan. Scary isn't it? Now in reality, most people don't keep homes for 30 years these days.  Plus, in the case that interest rates drop in the future, most home owners will refinance to take advantage of the lower rates.
As many times as I've said it, even 5.5% interest is historically low.  Nonetheless these increasing costs make it harder to purchase a property that might be on the higher end of your budget. Likewise, you may not be able to buy as large or updated of a home as you might want.
The easier part of buying a home in 2019 is two-fold.  For one, the strength of the sellers' market has shifted.  Don't get it twisted, we ARE still in a sellers' market, but it is much closer to a balanced market than we have seen in several years.
Some "perfect" homes can still sell quickly, but there may be only 1 or 2 other interested buyers, versus 5-7 buyers putting in offers that we saw over the last few years.
Others homes that have been sitting on the market for a while may be ready to negotiate a bit more than they would have in the past, and the chances of getting a good deal is improved.
The second part that makes buying a home easier this year is technology.  Real Estate shopping has moved to a predominantly online based process, even more so than in the past couple years.  Paired with streamlined online lending processes, you can buy a home straight from your phone these days if you really wanted to.  (tip: although totally possible, don't actually buy a home from your phone…please, please, visit a home in person before you make an offer).
As much as you can research and find just about all properties for sale, there are still remains very big advantages to getting an agent involved early on in your process.  The real estate and mortgage industry are inundated with ever-changing caveats, hurdles and stipulations to navigate. And the best news of all, Buyers Agents are still free for you to hire to help with you your home purchase.
So back to the million dollar question, should I buy/sell this year?
The right way to answer this unfortunately isn't a simple yes or no.  Remember real estate is a long term investment.  The slow down and drop in demand we are seeing is starting to look  similar to the cool down we saw in 2014.  That lasted 6-9 months and then picked right back up again.  This is the most likely scenario.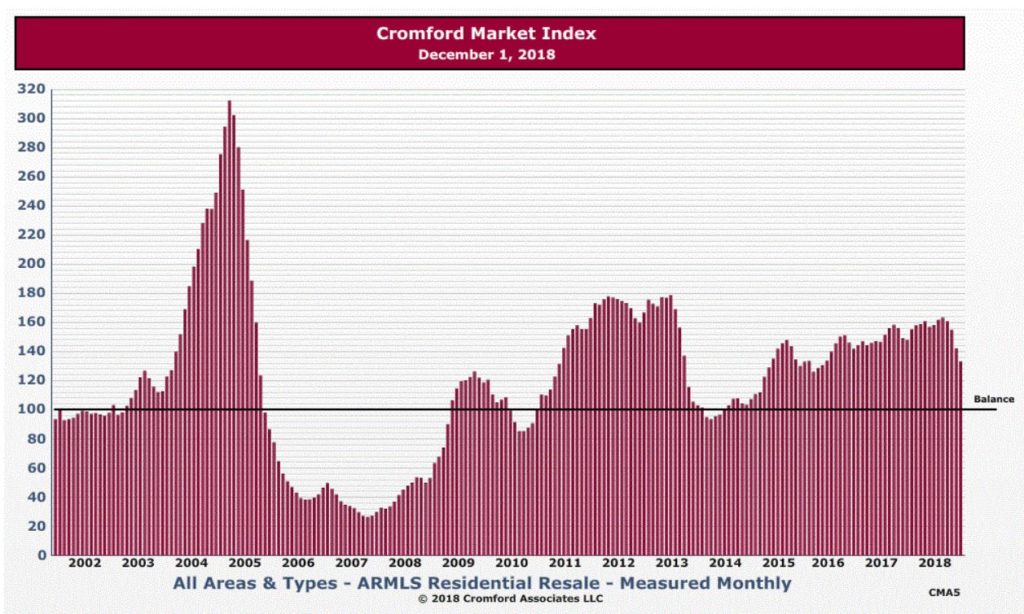 While there are always some unsustainable gains and bubbles in any market, they are really few and far between. Smaller corrections and steady increases are the norm, and that's exactly what we are experiencing.
The right answer to this questions is only dependent on you and your personal situation and your goals.
Contact Me