5 Most Expensive Homes Sold in Arizona in 2019
---
2019 brought on some absolutely colossal home purchases, including the single most expensive home to sell in Arizona EVER.  That means it's time again for the 2019 edition of let's see how the other half lives. OK, it's not the other half, more like the top .01%. From indoor basketball courts, to elevators and lazy rivers, it's time to explore the top 5 most expensive homes sold in Arizona in 2019.
5) 7560 N Silvercrest Way, Paradise Valley, AZ 85253

Sold for $9,500,000
Bedrooms: 6
Bathrooms: 8
Size: 9,094 Square Feet
Built: 2006
Seller: Silvercrest LLC
Buyer: Ruth Stumpf
This modern masterpiece features 270 degree panoramic views to the south, 2 pools, including a suspended lap pool, 2 spas, 2 elevators, wine cellar with 1,000 bottle capacity, and a 5 car climate controlled garage.
4) 8100 N 68th St, Paradise Valley, AZ 85253
Sold for $12,000,000
Bedrooms: 5
Bathrooms: 8
Size: 17,912 Square Feet
Built: Various additions between 2000-2016
Seller: Christopher Daugherty
Buyer: Amy Connor
This incredibly unique Mediterranean Villa styled home features old world style with modern conveniences. This homes single most unique feature is the two courtyards taking up nearly 7,000 sq ft, serving as the homes backyard. One couryard has a pool, and the other is a garden including 9 fountains. An impressive list of imported products and some of the world's finest materials came together to make this a truly special property.
3) 5335 N Wilkinson Rd, Paradise Valley, AZ 85253
Sold for $12,600,000
Bedrooms: 7
Bathrooms: 12
Size: 15,381 Square Feet
Built: 2009
Seller: Craig and Melissa Smith
Buyer: Desert River Oasis LLC
This resort themed property is the epitome of luxury, fun and relaxation. The backyard is the standout feature of this custom home, boasting a 150,000 gallon lazy river and pool, a 30 ft water slide, rope swing, volleyball court, firepit and putting green.  The insides not too shabby either, with a 3,000 bottle wine cellar, theater/billiards room and a 10 car garage.
2) 5838 E Starlight Way, Paradise Valley, AZ 85253
Sold for $15,680,000
Bedrooms: 8
Bathrooms: 11
Size: 30,589 Square Feet
Built: 2005
Seller: Silco Enterprises LLC
Buyer: 5838 Starlight Way AZ LLC
Yes you read that right, over 30,0000 square feet.  This palatial property sits on over 7 acres at the base of Camelback Mountain. This privately gated compound was designed by Frank Lloyd Wright architect Vernon Swaback, and features a basketball court, 12 seat theater, 12 car garage, and of course, a wine cellar.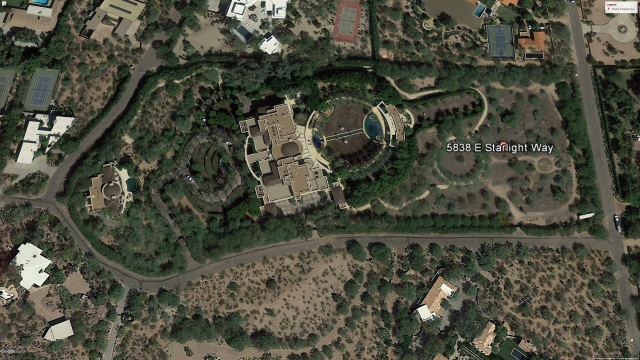 1) 5710 N Yucca Road , Paradise Valley, AZ 85253
Sold for $19,250,000
Bedrooms: 7
Bathrooms: 11
Size: 28,043 Square Feet
Built: 2009
Seller: Robert and Penny Sarver
Buyer: 2123 Partnership LLC
Taking the top spot for 2019 is the (now former) home of the Phoenix Suns owner, Robert Sarver.  In fact, this home sale is the highest price paid for a home in Arizona EVER. The property features, what else other than a suns themed basketball court, 9 car garage, fitness facility, expansive pool, spa and grotto. The master retreat has both his and hers closets, a private spa with outdoor shower and a hair salon. The new high dollar property in Arizona will be tough to top, but with 5 other properties in Arizona listed for MORE than 20 Million, it just might happen in 2020.