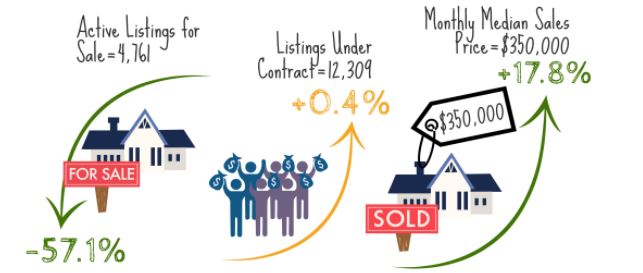 2021 Q1 Market Update
---
Unless you just emerged from a year-long slumber (and boy would you have missed A LOT), it's no secret that Arizona Real Estate is hotter than ever. Will home prices continue rising at a rapid rate, or are we starting to see an end in sight? Is this a real estate "bubble"?
Let's Explore!
Average Price Per Foot
The Phoenix metro area latest average price per foot (for all properties and price ranges) is around $232/ ft.  That's up from around $220/ft at the beginning of the year – an increase in almost 10% in 3 months.
Average Day on Market
The average days on market for a property is sitting around 35 days.  But wait, most homes are selling in 48 hours or less, why would it be 35 days?  Well, not everything is selling that fast.  In reality, this average is through all price points and types of homes (condos, mobile homes, $150k homes and $20M homes alike). Additionally, many homes that accept contracts keep the status as Active but accepting backups, which continues to run up the days on market until it closes.  So for many of these homes, take off a standard day 30 days closing, and you are probably much closer to 5 days average to sell a home.
Average Sales Price
Average sales price is currently sitting around $477k for homes that have closed this month.  As prices are a delayed effect of the current market, prices will continue to climb. We are up from $379k average from March of last year on this statistic –  a gain of about 28%. This is not to be confused with the MEDIAN house price, which is around $350k.
Market Index (general measurement of how "hot" the market is, Higher the number = hotter the market)
The Cromford Market Index® for Phoenix is sitting at a blistering 508.9 – which is the highest number on record.  When this number is above 100, homes prices increase.  When it's above 200, it's a pretty solid sellers market, when it gets above 300, buyers start having a real hard time finding properties and bidding wars begin  Over 400 – bidding wars are customary and just about anything sells quickly.  Now sitting at over 500 for the first time ever, you can imagine what that's like…If you don't include your first born in the offer, don't bother.  (Just kidding…sort of)
What does this all mean for a buyer?
If you are a buyer in todays market, you can expect a few challenges.  The large majority of homes are selling in a day or two with multiple offers – Typically 10+ offers over a 48 hours period.  This is not true for all homes, as homes priced too high, or in the luxury market do not always experience this, although it's possible.  That means a good offer will not cut it, it must be EXCEPTIONAL in most cases.
Be prepared to waive appraisal contingencies (ask me if you want more details), and offer above list price to have a chance at securing the home.  If you don't someone else will.  Inventory is extremely limited, so going in with an open mind is key.  There is not a lot to choose from.  Remember most everything can be changed about a home except for the location.
Long gone are the days when you could instead opt to head to a new home builder and order a home of your choosing. All new construction communities are operating on either interest/wait lists or lottery systems to keep up with the demand. You'll need to be patient (and maybe a little lucky) to grab a new home in most new communities.
Where do we go from here? Is this a Bubble?!
The good news is the market index is holding relatively stable, and our severe inventory crunch does not appear to be getting too much worse – Although we did dip below 4,000 homes available for sale in the Phoenix metro for the first time ever recently. (typically, 25,000-30,000 homes available as a balanced market).
At this juncture, the shortage is so severe it will likely take YEARS for us to catch up and the supply to match the demand.  With high levels of people relocating to Arizona, jobs being created, a warm climate, Arizona is well poised for continued growth. Phoenix remains at the top of the US appreciation list for the 20th consecutive month.
Bubbles, in any market, are created by false demand and speculation. For example, the housing crisis of the 2000's was fueled by investors snatching up properties and many times not even renting them out – Just vacant 'ghost houses' to sit on for a few months and then resold. Not only that, but they were pulling out equity from one house to buy more homes, completely overleveraging themselves. Builders were building homes quickly to meet these 'demands" and investors would buy as many as they could. There was no true demand for housing, just a lot of bets and speculation. On top of this, lending practices were far too loose and were allowing low credit individuals with no down payments into expensive homes with 'teaser' loans and awful terms.
Today, the rapid price increases on the surface seem all too familiar, but that's where the similarity stops. The reason our market is so hot couldn't be more opposite. The demand is now very real from very real buyers needing housing. Covid was the catalyst that has pushed the millennials out of apartments and into homes, now the largest segment of buyers in the country. Meanwhile around 200 people move to the Phoenix area every single day, who are needing a roof over their heads.
If you feel like housing is too expensive to buy now, what is the alternative? Rent in Phoenix is increasing at the same rate as sale prices.  (Unlike bubble behavior, where rent would be declining as prices increased like it was from 2001 to 2005)
This is further driving people into buying.  Why continue paying more every month in rent when you can lock in an appreciating asset with historic low interest rates for similar costs?
While I'm still looking for that elusive crystal ball to predict where things go from here, all signs indicate more of the same for the foreseeable future. Phoenix is still maturing, and is the fastest growing city in the country for several years running.  It's been predicted by US Census Bureau to double in size by the year 2040.
Please let me know if you have any questions about Buying or Selling in the Phoenix area.
Ask a Question