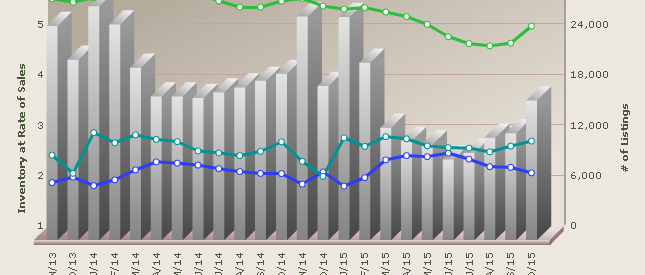 October Phoenix Market Snapshot
---
October's numbers are in!  As expected over 10,000 new listings came to market in October bringing the entire active listings for the month to 23,800.  This is the most homes to come on the market in a month since May 2015. The average sales price went from $259,908 in September to $263,445 in October.  Compare that to October 2014's average sales price of $248,395 providing a one year change of roughly 6%.
So how will the real estate market finish the year?  The amount of new listings will slowly be reduced for the remainder of the year, this much I can guarantee. December should see about 50% the amount of new listings as October. Will the holiday season this year continue the surge of first time buyers like the summer season? Only time will tell.  Historically, December is the slowest month of the year for Arizona Real Estate.  After all, who wants to deal with trying to sell a home around the holidays?  Often times for Buyers, this is a great time to negotiate a good deal.  Many sellers on the market during the holidays are very serious and often need to sell.  Some have been sitting on the market since summer and were not able to sell during the fall season, providing an opportunity for buyers to make more aggressive offers.
In other words….
Buyers – If you can brave the chaos of the holidays and home shopping at the same time, November/December can be a great time to score a deal.
Sellers – Rather than putting your home on the market in December, consider taking this time to do some prep and consult with your Realtor to get your house 'show ready' for the market for next year.