How Home values may be affected by Covid-19
---
As we digest the impacts of Covid-19 on the economy and state of affairs, it's an easy assumption to think that "everything is going downhill". But is that so?  During the great recession, real estate was one of the hardest hit areas, and those tough times are still etched in the minds of many.  But this is different, very different. Has the real estate market felt the effects of the global pandemic? Will real estate transactions come to a government mandated halt? (they have in the UK) What will happen to prices?  Let's take a look at the facts.
Remember that home prices are largely dictated by supply and demand.  The current pandemic does not change that economic principle.
Supply
Supply in real estate of course refers to the number of homes for sale at any given time. As of right now, there are 13,392 residential properties for sale in the Phoenix area.  At the beginning of March, there was right around 10,000 homes for sale, which was record breaking low. For comparison, a "balanced" market would offer closer to 25,000-30,000 homes for sale.  By all standards 13,392 homes is still VERY low for us, and thus, we still have very low supply today. Low supply= rising prices.
In the last 30 days, we have pivoted from a decreasing supply to a rising supply in a relatively short amount of time, which can be seen on the below graphic as a spike on the far right.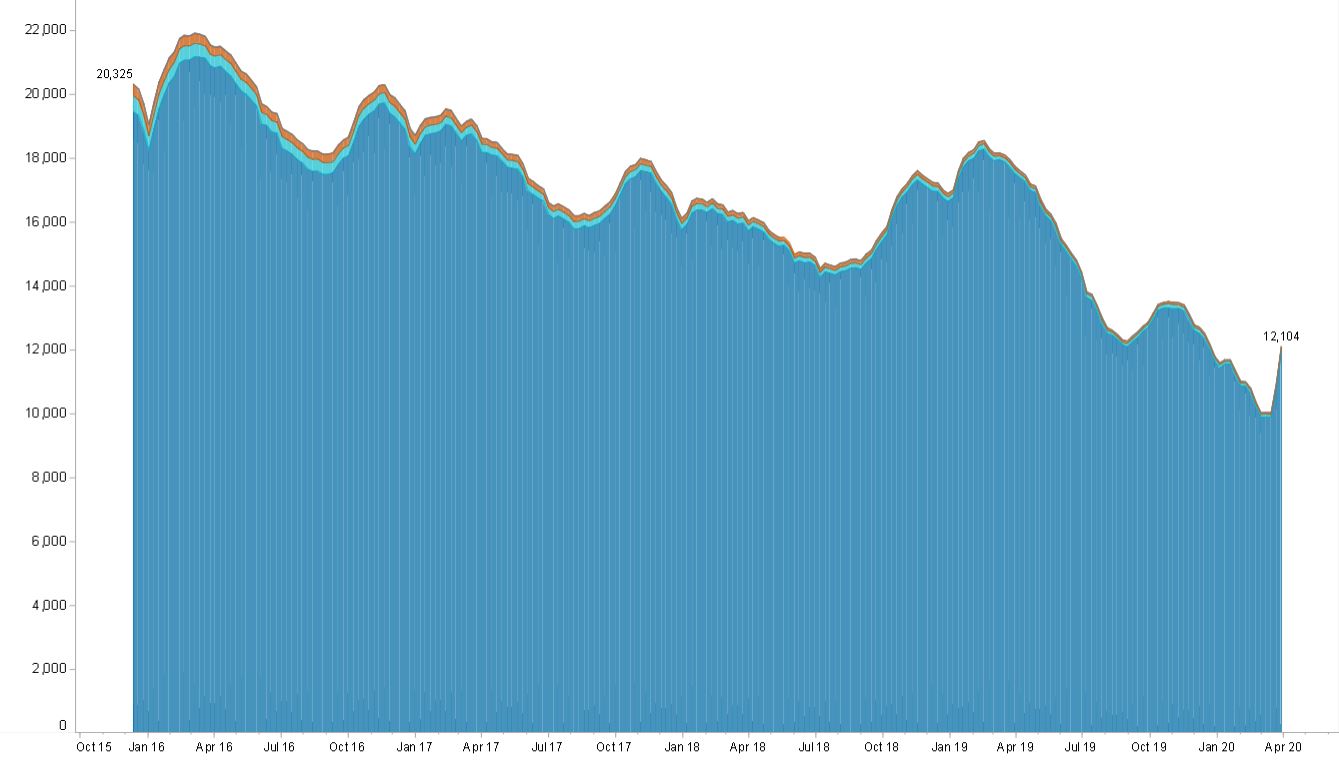 The increase in supply can be assumed from a few reasons:
-Less people out home shopping while under stay at home orders, means homes are not getting sold as quickly.
-Owners of short term rentals (airBNB, etc) are staring down 0% occupancy rates while mortgage payments continue to accrue, forcing them to either rent long term, or sell.
On the other side of the token, there's actually a lot of would-be home sellers that are not placing their homes on the market either, from fear of strangers coming in and potentially contaminating their home.
It's possible that once we work our way out of the stay at home orders, groves of home sellers may feel comfortable opening up their homes for showings, causing an additional boost of supply to the market.
Demand
As mentioned previously, the recent stay at home order means we should all be staying home to help stop the spread of Covid-19.  However, the governor of Arizona has declared Real Estate an essential service, so you can absolutely buy and sell property right now.  That doesn't mean people are exactly comfortable home shopping right now for that reason. You can do it, and many still are.
In Arizona, most Realtors use a system called ShowingTime to schedule and coordinate property showings.  Updated numbers from ShowingTime show the amount of requested showings over the last 3 months, compared to the numbers of 2019.  That's about a 35% decrease since January, and almost 50% less showings than the same time last year.
This is typically our peak season, so it's not surprising there is a large spread, but we can deduct there is roughly 50% less home shoppers right now than there was this time last year. However, that's still thousands of people out looking at homes.
We can see a reversal in the direction of supply and demand occurring right now, but please keep in mind that does NOT mean that prices are now being lowered.  At the current rate of supply increasing and demand decreasing, it would still be many months before the scales are titled to be anywhere close to a buyers' market for Phoenix.  Inventory is still just way too low.  Of course, this rate of increase/decrease is highly unlikely to continue for long, as the initial shock of the reality of this virus has reached most, and approximately 50% have put their plans on temporary hold.
The million dollar question is how long will it all last, and what happens after the fact? If we can in fact bust the virus and start resuming our new "normal" lives in May time frame, I would expect to see an influx of both seller and buyers come on the market resulting in a later than normal seasonal surge for Phoenix.
Long term, how elevated unemployment rates effect demand of buyers is to be determined.  The massive spike of unemployed could come back equally as quick as we make an effort to bounce back and rehiring begins, or it could be a very slow and painful rebound process.
No one knows for sure exactly how this unfolds. However, remember that real estate is an innocent bystander to a global health emergency.  Our last great recession was a real estate/lending caused recession, so real estate was hit hard. This crisis however is a medical crisis, causing financial hardship, that is testing a fundamentally sound real estate market.
From the real estate perspective, this is more comparable to other major economic shocks and stock market crashes such as the .com bubble, or September 11th .   While the major economic changes of this disease will affect real estate in some capacity, don't think that this means the floor will fall out from under us.
This chart speaks volumes of long term real estate prices.  Real estate has historically faired quite well even during time of recession, besides the real estate induced recession that is freshest in our memories.
Recessions are noted in gray on the chart below
Since no two major global events are alike, this pandemic puts us in uncharted waters. No one knows exactly where we go from here. I do know that we are a resilient country, and our nation has yet to be faced with a task we cannot overcome.
Questions?  Feel free to reach out.
Contact Me