Good News and Bad News
---
Do you want the good news or the bad news first? OK, the good news:   The AZ governors 'stay at home' order is expiring! Now we can eat out, do some shopping, and go out and buy a home…that is unless you are 1 of the approximately 9,000 Phoenicians who already bought a home last month.  Quarantined or not, an active real estate market has lived on through the Covid-19 pandemic. Yes, it's true the average number of homes selling over the last several weeks is rising quickly, putting an end the brief decline of sales that started in mid-march. But along with that good news, here's the bad news…
The bad news is buyers looking for lower prices, are likely going to have to keep waiting…
If you read my last blog, you may have been surprised to learn that in the history books, real estate actually fares quite well during a recession. It's only because our last recession was a real estate & mortgage caused recession that the housing market felt so much pain.
Below is the continuation/update for last month's buyer activity chart showing the amount of buyers scheduling showings in Arizona this year, versus last year.  The floor seemingly fell out the second week of March, but it's easy to understand why – after all who has time to go home shopping when we're all clearing out the TP isle at Costco?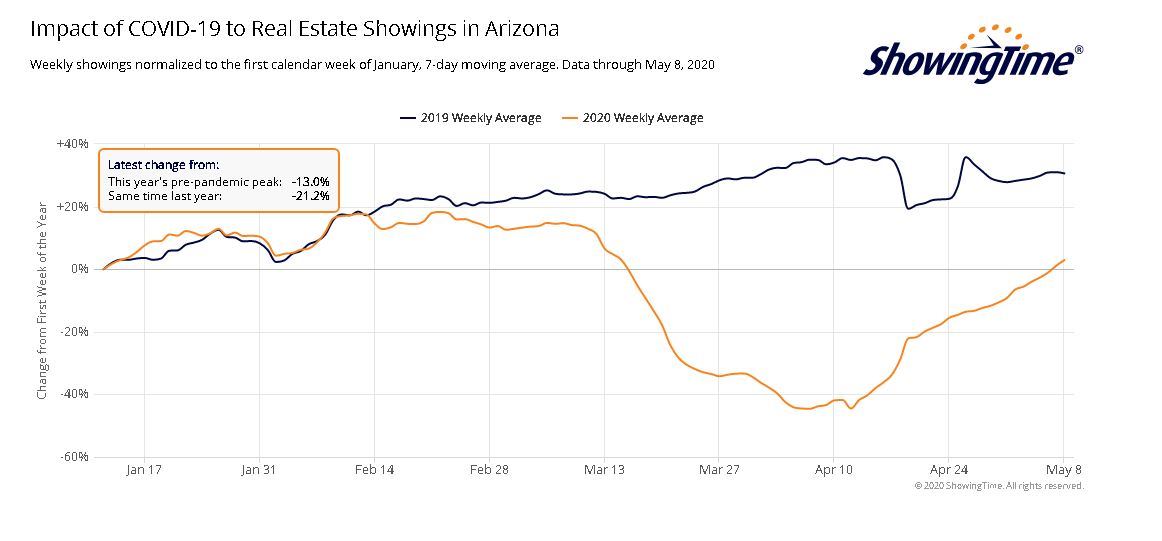 Now, for 30 days straight we've seen a continual increase of buyer activity, surpassing the levels we started the year at.
When demand outweighs supply, prices will rise.
So why is buyer activity picking up so much?
Maybe it's pent up demand – people who wanted to buy/sell in March, arguably the most popular month for Arizona real estate, are feeling more comfortable finally getting out looking at homes, and allowing buyers into their homes, with the proper guidelines.
Or, here's a crazy theory: Maybe all that time you've been spending in your house, you've realized it just isn't working.  Maybe, just maybe, the future holds more time spent at home for the average family.  Working from home, playing at home, eating in more, etc.  If your time spent at home has grown, maybe your appetite for a nicer, newer, bigger, or just more functional space has grown as well? Could this new "normal" actually cause a whole new surge in home buying and selling activity?
Now, this is not to say that we have a stronger sellers market than we did pre-Covid.  The temporary drop in buyers did take us from an extreme sellers market (where prices are rising quickly) to a moderate sellers market (where prices are more stable to slightly rising ).  The market has clearly found a footing and there is no indication in the data that tells us we will even come close to a buyers market.
While pandemics are not new, the way people have reacted and shared information(both real and fabricated) during this pandemic is very new.  While I can't predict what happens from here, I will always share exactly what I'm seeing in the local real estate market and the latest trends and data with you . Please contact me to get detailed information and data on your specific area,  not every area and price range follows the same trends.
Contact Me