A Simmering Housing Market
---
6 Weeks into 2023 and the Phoenix real estate market is beginning to simmer. A few of the first signs of a market improvement started showing in December – and January has shown even more signs of a market that is likely to start appreciating once again. Let's look at the reasons for both home buyers and sellers to celebrate the most recent developments in the housing market.
Buyers
There is plenty of good news for home buyers right now! For starters, home prices have come down from there previous highs last year. The average home price in the greater Phoenix area in June last year was $600,404. Today, that number sits at $524,450. That's a $75k savings, and about 15% off – from peak to trough.
To top it off, interest rates have come down a full percentage from their peak in November, 2022. While a percent might not seem like a ton, it's a fairly sizeable savings on a mortgage payment. While rates are still trending down, don't plan to wait around for 3% interest rates again – those days are long gone and unlikely to ever be repeated.

However, many sellers know this and are more willing to give contributions to help lower a buyer's interest rate than ever before. So just because the average interest rate is around 6%, doesn't mean you will pay that. It's possible to pay lower than that by "buying down" the interest rate using sellers' funds (of your own). Some home builders are offering special rates for financing as well that can be substantially below the standard market rates.
To put today's environment into perspective, look at the following principal and interest mortgage payments for a home buyer financing an average priced home over the past year. (30-year fixed rate with 20% down)
April, 2022
Average Home Price: $598,622
Average Interest Rate: $4.07%
Estimated Payment: $2,306
November, 2022
Average Home Price: $538,344
Average Interest Rate: 7.08%
Estimated Payment: $2,888
February, 2022
Average Home Price: $524,344
Average Interest Rate: 6.0%
Estimated Payment: $2,515
The other good news for buyers, is comparatively to a year ago, there are substantially many more homes to choose from. This week last year, there was around 4,500 homes for sale in the Phoenix area. Currently there are around 14,000 homes, 3X as many options.
However, the number of homes for sale peaked at 19,000 in October, and since then homebuyers are buying faster than the number of new homes coming on the market. Regardless of last year's slowdown, Phoenix still has a long term housing shortage.
Sellers
While buyers have many things to be grateful for, sellers are still invited to the party. For one, it's the fact the buyers are coming back in the market!
That means we can soon expect to see measurements like average time it takes to sell a home to start dropping. (Currently around 85 days, and likely the highest we'll see for a while)
The number of listings currently under contract is up to 7,810, from 5,456 last month.  That's a 43% increase in the number of homes pending, and is the largest single monthly jump EVER. This leading indicator tells us we are about to see a whole slew of increased activity and closings in the coming months. Buyers wasted no time snatching up their new home after the holidays and locking in the reduced interest rates.
While sales prices are not up (yet) the average listing price has gone up every week since the start of the year.  This shows sellers confidence in the market, among increased demand. This will ultimately help to lead to higher prices. Since sales price is the last data point to change and be recorded, we're not likely to see that first notched increase in closed prices until March, but on our current path, it's coming.
The vast majority of individual cities in the Phoenix Metro are now officially back in sellers' markets. Only Goodyear, Queen Creek, Maricopa, and Buckeye are the holdouts and still in buyers' markets.  It is less favorable to be selling a home in these cities than others. However, these four cities are all moving in favor of sellers as more buyers come back in the market.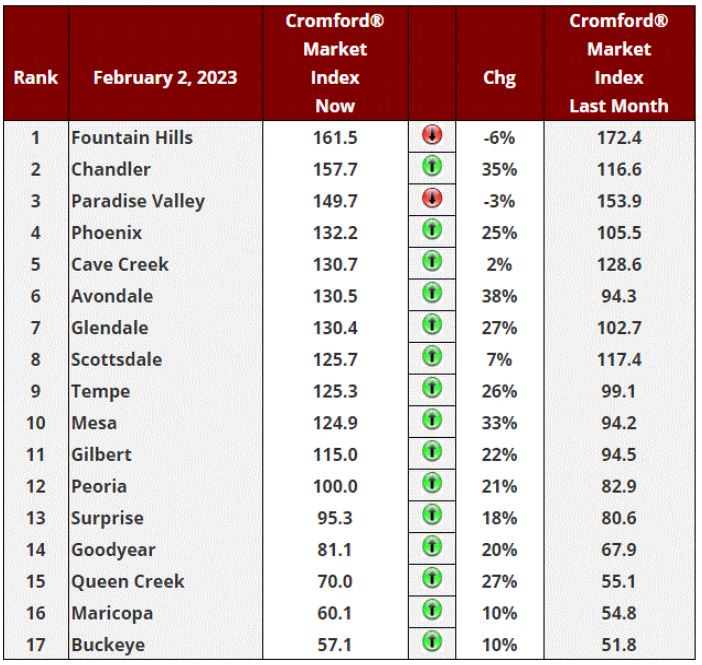 Fountain Hills is holding its long-standing reign as the best city to be a seller right now, although Chandler is heating up quickly and likely to take over that title imminently.
So whether you need to buy, sell, or both, there is a lot to be thankful for right now! As always, please reach out should you want any specific details on your localized neighborhood and market, or if you are thinking of buying or selling a home this year.