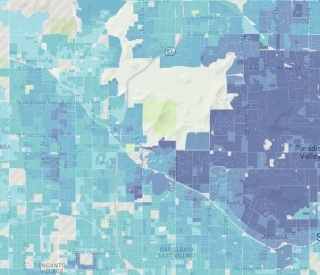 Finding the Right Neighborhood
---
Whether you're new to the Phoenix area, or you are just looking for a new place to hang your hat, finding the right neighborhood that matches your lifestyle is key. In today's digital age, it should be easier than ever to find neighborhoods that ticks all your boxes.  In fact, there is SO much information out there, it's almost overwhelming to narrow down which areas of town you're best suited for.  If you want to make it a little easier, here are some ways to research and narrow down neighborhoods.
Trulia Local
Truila Local is a section of the Trulia.com website which has put a large amount of data into a graphical map format for easy consumption. I often send clients to this website to do some research on neighborhoods.  By no means will I endorse any other part of the Trulia website/home search tools, but I'll give credit where credit's due – this is a great tool.
Filters on the map include Crime, Schools, Commute, Amenities, Affordability and Demographics. Many home buyers don't realize, Realtors are actually not allowed to answer a lot of questions about these topics. Crime and Demographics questions specifically are usually big No-No's due to Fair Housing laws. For me, this is a perfect place to send clients to do a little self-research on a neighborhood.
Some examples of what type of information is available on these interactive maps are:
Crime Risk
School Boundaries and Ratings
Commute Times
I find this to be a really nice feature. You can set your work destination – and the map will graphically map out the commute times in colors from anywhere in the valley.
The link to view these maps on Trulia's website is HERE
Talk to local Phoenix Realtor
I know I just got done telling you that there are things your Realtor can not legally answer, but that doesn't mean they can't help you narrow down the right neighborhoods.  Most local agents are experts in a particular area of town, and know intricate details about that area- sometimes even down to the nuances of street by street.  This is where the deep knowledge of what's going on in a neighborhood comes into play that you just can't get online or anywhere else.
Get recommendations
Recommendations can be key in locating some great neighborhoods for you, especially for those out of town.  If you have family living in the Phoenix area, ask them what they like about their neighborhood, or what would they change? Question co-workers whose advice you trust and see what they think about some areas you are considering.
Drive the neighborhood
Driving the neighborhood is an old school method – but a great one.  In fact regardless of how much research you do online, you need to drive neighborhoods.  I'm not just talking about driving the residential street around a home you like.  See what the local grocery stores are like. Head out to some restaurants. Check out the shopping mall, the movie theater, nearby parks and the local coffee shop.
What's the neighborhood like not just during the day, but at night?  Some neighborhoods are dead during the day, but come to life at night.  Others are bustling all day, and are ghost-towns by 6pm.  What type of people are around, does it seem like all college kids, families, or retirees? Would you feel safe and happy in this neighborhood?
Need help with narrowing down Phoenix area neighborhoods? Just Ask!
OR
Find your next home by Searching the Arizona MLS